If you book within 7 days of clicking on the link, I will earn a small commission on the booking. The price is the same for you on this link or on a direct connection to Viator. If you go directly to Viator, I won't get a commission. Thanks for your support. And yes, I use Viator to book my tours and activities.
During our first trip to Europe, we started with a 3 day pre-cruise visit in the Zurich area prior to taking the Viking River Cruise down the Rhine, from Basel, Switzerland to Amsterdam, Netherlands. We could have purchased a pre-cruise trip through Viking River Cruises, but wanted to do it on our own. I will tell you here and now that it is much easier to utilize their pre-cruise and or post-cruise offerings because they will put them together with your flight reservations and all transfers. You don't need to worry about how you will get from one point to another. They take care of all if it for you.
We flew into Zurich International Airport so that we could see Zurich, Lucerne and the Alps before starting the cruise.  At the airport, which is directly connected with their rail and tram system, we had the choice of buying a train ticket into downtown Zurich or a tram ticket on the #10 tram that would take us to our hotel. We took the train because it was much faster.
Only a 10 minute train ride from the Zurich airport to downtown Zurich (Zurich Flughafen to Zurich Bahnhofplatz/HB). It is very inexpensive, 6.60 Swiss Francs per person.  If you have never traveled by train in Switzerland, here is a short video showing how to do it.  https://www.youtube.com/watch?v=ceggirq4hDE. The only difference is that we would be going from Zurich Flughafen (Zurich Airport) to Zurich HB (The main train station in Zurich).  Here is what the actual train trip looks like. https://www.youtube.com/watch?v=YpdAh7wYGuk
After a nap of a couple of hours, we were ready to explore. We went back to the train station to scope out where we would be catching the train to Basel in just a couple of days.
I even picked up our tickets from Zurich to Basel while we were there. Keep in mind if you are doing it yourself, there is more than one train station in Basel. Neither one is real close to the dock, but one is much closer than the other one. The main station, Basel Swiss Train Station – Basel SBB Bahnhof is in the middle of town. The other train station, Basel Badischer Bahnhof is located on the German side of the Rhine River, closer to the river cruise docks. So when you check your docs from Viking, find out which dock your boat is waiting at and then decide which train you want. You will want Basel SBB if going to Sankt Johann. You may want Basel Badisher if going to the other two. Please note that Basel Badisher is often called Basel Bad Bahnhof. By the way, if you need it, there is a train station near the airport in Basel, Gare de Saint-Louis-la-Chaussée.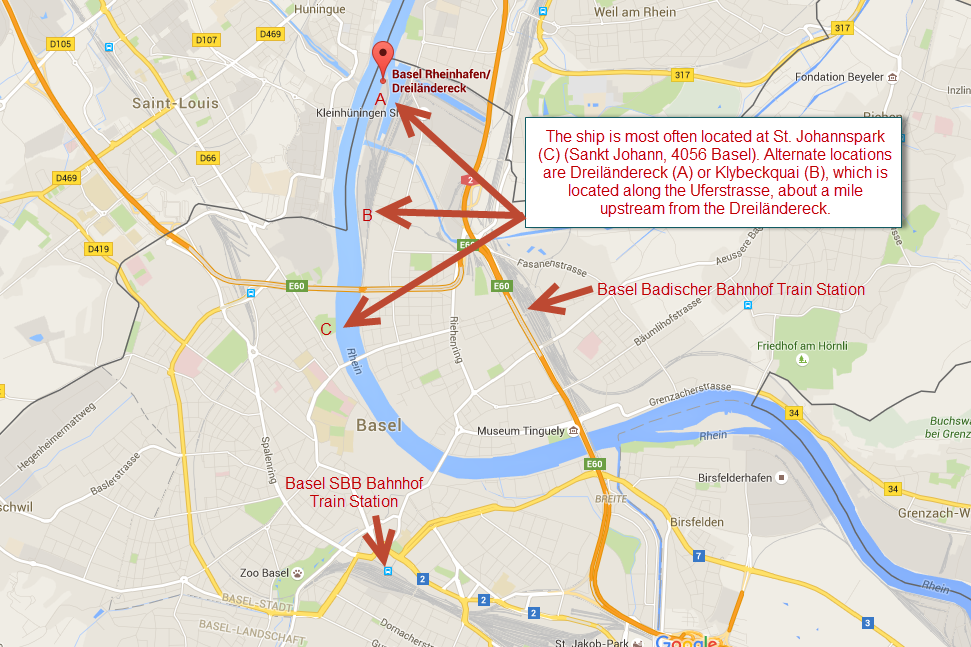 We wandered throughout the station to see where we would catch the train and watched a couple of trains come and go so that we knew that we would be comfortable when it was time to head to Basel for our river cruise.  In fact, we found an train leaving for Basel and checked it out as well.
It was a beautiful train station, but most surprising, was that there was a compete shopping center under the station. Grocery store, restaraunts, deli stand for take-away sandwiches (which we used before our excursion on our second day in Zurich) as well as a bottle shop where we picked up a nice bottle of wine for back in our room.
We wandered through the Migras grocery store. Always fun to see what is up for sale in a foreign super market. I did note that the wine was across the hallway in a bottle shop, and that their deli was adjacent to the store, but through a separate entrance. We picked up the makings for dinner as well as a couple of sandwiches for our excursion to the Alps the following day.
We walked around the downtown district, enjoying the sights and taking several photos. We also checked out the location for our tour to the Alps for the next day. I called to verify our reservations and then we walked back to our hotel to settle in for the day. This is a beautiful city and we really were looking forward to our bus tour to the Alps the next morning.
Before we left home, we pre-purchased the tour online through Viator.
Click below for tours and excursions!
Viator
To join the tour, it was a short walk from our hotel to the Sihlquai Bus Terminal. We made our way out the side exit on the north side of the train station to Museumstrasse and turned left for a short block, turning right on Sihlquai, then left on Limmitstrasse.
We met up with our bus for the trip to Mt Titlis at the Sihlquai Bus Terminal. (To make it easier for you to navigate to the bus terminal in Zurich, some of the photos like the one below, has been captured from Google Maps Street View and has a live link back to the original Google Map. Click on the photo so that you can look around to get your bearings.  For example, click on the photo below, turn around, and follow the tracks back toward the main train station in Zurich, then turn around and navigate back so that you are comfortable when you arrive. This is a great tool. I always try to walk the streets before I actually visit a new city.)
Once we arrived at the bus terminal, I turned in my voucher at the white ticket building for our actual tickets on the bus. We had a few minutes to wait so we just walked across the street and enjoyed hot chocolate and coffee at the little sidewalk tables at the Starbucks on Limmatstrasse.
The guide, Trudy Carvalho from the Best of Switzerland Tours, was very friendly and told us about the sights we were seeing in English, followed by the same information in French and Spanish.
The sights were beautiful. Everything was so green. We made two stops in Lucerne, first to visit the Lion Cave then to visit the covered bridge and farmer's market.
After our stops in Lucerne, we were off to Engelberg, Switzerland. Upon arrival in the small town of Engelberg, we went to the cable car facility to ride three different cable cars to the top of the mountain.
One of them was the famous Rotair, a rotating cable car, to travel to the summit of gorgeous Mt Titlis, central Switzerland's highest mountain. Although there was a blowing snow blizzard at the top of the mountain, is was still a sight to see.
We visited an ice cave and went out on a suspension bridge that hung along the side of a cliff. We bought a cup of hot chocolate and enjoyed our sandwiches from the Migras deli that we brought with us.
On the ride back down, we talked with a local resident who was up there to ski. He shared a photo of what it looked like earlier that morning before the snow started to fly. Beautiful. Looks like we will have to go back so that we can see it when the snow is not blowing.
The following day, we checked out of our hotel, walked to the train station and caught our train to Basel. It was a great trip. Loved seeing the countryside from the train.
After our arrival at the train station in Basel, we took a local taxi to the dock where we were to catch our river cruise. One thing that we learned that day is that when the river is running high, and it was, some boats cannot make it all the way up to Basel. Our boat wasn't there, but that wasn't a problem. Viking River Cruises staff were there and put us in a taxi to take us to their busses at the Basel airport. We were transported in a very nice tour bus to the next stop on the trip. The river cruise was outstanding and we are ready to another. Maybe we will do the Danube the next time.
Finally, to give you a better idea of what you can see and do in Zurich, please take a look at the videos that I have collected below.
Zurich, Switzerland Videos