Something that worries almost all first time travelers to Europe or England,  has to do with which of their electronics will work and which ones won't work.
They want to know if they need an adapter or a converter.
Let's start with basics. In the USA, we use 110 volt AC appliances, except for electric ranges, electric water heaters and electric heating and air conditioning systems. Those use 220 volts AC.
In most of the rest of the world, they use 220 volt AC appliances.  I should also point out that AC stands for Alternating Current.
Our cars and most electronics use DC or direct current but you don't need to worry about that. Why, because when we charge our electronics we use a USB plug or a plug with a built in converter that will convert either 110 volt AC current or 220 volt AC current to the appropriate DC voltage for our phones, cameras, tablets or our laptop computers.
With that background, lets move on to talk about adapters vs. converters.
An adapter is a device that allows you to plug your American appliance or charger into a foreign plug. A converter, converts the electricity coming out of the wall from 220 volts to 110 volts.  Newer adapters do have a limited converter to convert the 220 volts AC to the 5 volt DC voltage for the USB outlets.
As an aside, none of the adapters shown in this article will work in South Africa or Swaziland. If you are going to South Africa, make sure to pick up the appropriate adapter for that country. They use a type M plug down there. You can order type M adapters from Amazon.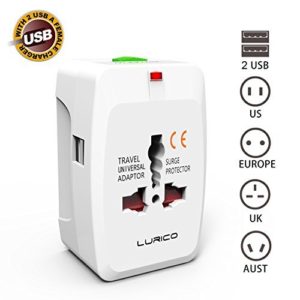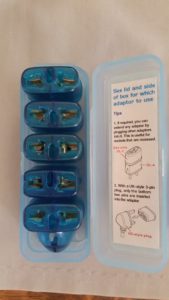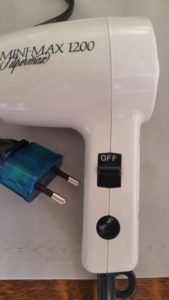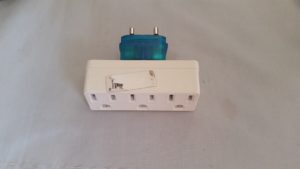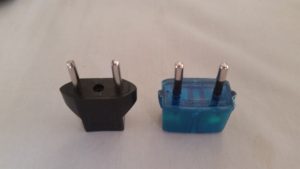 Back to the discussion of the need for adaptors or converters.
In most hotels and cruise ships, they have a 110 volt circuit in the bathroom for an electric shaver. Don't plug your hair dryer into that slot. Many cruise ships don't even want you to bring along a blow dryer or a flat iron for pressing your clothes. They tend to overload their circuits. Facilities that are set up to handle the electrical load, generally provide blow dryers in the cabin or the hotel room. It may not be the one you are used to using, but it will do in a pinch.
Don't plug your hair dryer into an adapter either, unless you have a hair dryer with a switch that will move it from 110 volts to 220 volts. You will burn it up. As for your curling iron or blow dryer, since you could not leave home without it, why not just buy one from a store in Budapest when you arrive. You can get one for about 20 Euros. Then you won't need to use one of your adapters.
If you need a converter, here is an option that you can get on Amazon.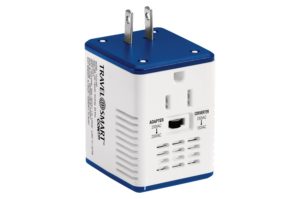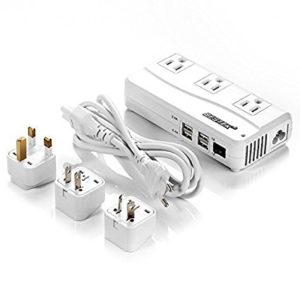 Most of us don't carry converters any more. We just carry adapters for the country we will be visiting. I always carry more than one so that my wife can plug her phone or tablet, etc. in on her side of the bed and I can plug mine in on my side of the bed.
Just make sure to pick them up from Amazon or your favorite retailer before you leave home. You know your battery will be dead when you arrive unless you remembered that on most international flights that there are generally 110 outlets or USB outlets in the plane. Sometimes they are under the seat, so that you can keep your device charged up. If you don't already have transportation waiting for you at the airport, you will want to use your phone to order up Uber or Lyft to get you to your hotel.  You did remember to order an international plan for your phone before you left home, didn't you??? Go to the Tips page for more tips.
———————————————————————-
Turning Dreams into Memories,
One Vacation at a Time.
Bon Voyage!!!
As you might guess, this document is a compilation of information from our travels as well as from other travelers. I hope it has been of value to you.  Check out the important links below.
Don't hesitate to email us when you return from your trip with any suggestions that will make this document better for you and your fellow travelers!